The Lake Ontario Log newsletter
Hiking New York's North Coast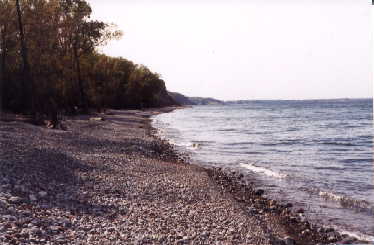 Along Upstate New York's Seaway Trail between Rochester and Oswego there exists an unusual land form found in only a few locations in North America. Known by geologists as a drumlin field, hundreds of elongate north south oriented hills shape the countryside. Near Fair Haven a number of these drumlins come to an abrupt end by the lake in a series of highly eroded steep bluffs. The best known of these cliffs of clay is Chimney Bluffs east of Sodus Bay, an undeveloped State Park. Its outstanding feature is a series of knife edged ridges, spires and chimneys whose improbable shape attests to the durability of mere sun-dried clay. However, several other bluffs with public access and hiking trails also show lesser but still spectacular sculpting. Sitts and Scotts Bluffs east of Fair Haven and Port Bays respectively present scenary nearly as interesting as the more often visited Chimney Bluffs. Another interesting badlands site is the McIntyre Bluff located along the shore of the Sterling Nature Center just east of Fair Haven.
A visit to one of these sites will probably turn up something of interest at anytime of year though spring and fall are ideal times for hiking. Bugs are few, temperatures ideal for mild exertions, and you are likely to have miles of empty beach to yourself at any of these sites. These cliffs of clay are one of the most dynamic and changeable landforms in central New York. Signs of the clash between lake and clay are obvious and sometimes dramatic. Yet the bluffs are also surprisingly tough and tenacious. Their resistance to erosion results in vertical slopes and strange shapes.
As you walk along the foot of these clay cliffs they loom above austere and seemingly lifeless. Erosion proceeds rapidly with up to three feet a year of land being carried away by water and wind. Outwashes of silt and clay form like miniature deltas at the foot of each gully carved by runoff. Sometimes a cliff is laced with dozens of shallow channels or rills, running down its face. Other times several tons of clay has simply slumped off the main face in a big chunk, or you may see peculiar "caves" 4 or 5 feet deep formed by undercutting at the bluff's foot. Dead trees slide inexorably down the face to become driftwood on the beach below, and in early spring you may note a darker horizontal streak running along the cliff face showing the presence of ground water. Often you'll encounter a sizeable rock, freshly dislodged from the clay that has then tumbled down onto the beach. Unlike the smooth water rounded beach stones, a rock that has recently washed out of the bluff still shows angles and corners. Sometimes you can even see scratches on its surface left by the passage of grit laden glacial ice over it 6000 years ago. Though they look different with their water rounded finish, the beach stones are identical to those from the bluff since the cliffs are the source of the beach. As you search for that ideal flat skipping stone, each rock tells its own story.
The beach tells a story too, one of storms and pounding waves cutting, shifting, sorting, and ceaselessly transporting sand, clay and rock. Waves carve away at the beach when they fall as breakers upon it. They also move the stones, flinging them forward and upward, then in subsequent storms with different water levels, moving them back out into the lake again. After a season of storms the beach shows a series of ridged berms, each one representing a past storm. The berms contain cobbles or small pebbles thrown up by the waves. The winter berm, formed by the season's biggest waves, is often the steepest made up of the largest stones. The sorting of stones by size is very pronounced, and you may sometimes see several parallel berms of similar sized cobbles running along the beach.
The contrast in geological time scales seen along the lake shore are also striking. The clay cliffs are the insides of drumlins, piles of glacial till dating back a few thousand years to the last ice age. Inside the drumlin are rocks representing tens or hundreds of millions of years of earth history. And the beach underfoot and the gullies, rills, slumps, and slides of the bluff represent hours days or weeks worth of erosion and form one of the most ephemeral of all local landscapes.
There are a half dozen places between Oswego and Sodus Bay off the Seaway Trail with access and hiking on and by the beach . Lofty Scotts Bluff north of Wolcott at the end of a gravel drive that runs off Broadway Road features an impressive column of clay projecting twenty feet or more from its surrounding face. You'll also get a superb vista of the lake's shoreline curving away to the west on a clear day. A set of steps leads down to a long stretch of state owned beach backed by the Red Creek marsh area, offering excellent beach combing opportunitiesand bird watching. Chimney Bluffs, an undeveloped State Park just east of Sodus Bay off Lake Bluff Road is certainly the best known cliff along this stretch of shoreline. And with reason. Its spectacular spires and ridges reach 150 foot above the lake. It, too, offers a number of hiking trails to explore beach and bluff.
A smaller state owned bluff lies at the end of Dutch Street running north off Lummisville Road just west of Wolcott. Here several hiking trails meander through the woods or follow Beaver Creek just east of the bluff though hemlock groves. Though not as lofty as Scotts or Chimney Bluffs, this bluff still offers an attractive overlook of the lake.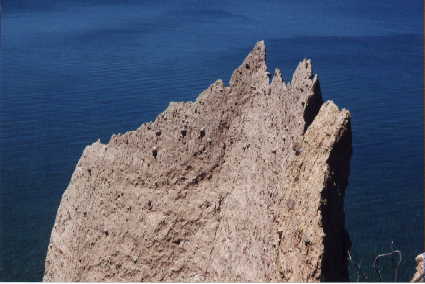 photo by Jack Benson

The Fair Haven State park offers a view of privately owned Sitts Bluff just east of it, while a few miles further east, less spectacular but more accessible McIntyre Bluff lies within the bounds of the Sterling Nature Center. The Nature Center is well worth a day's visit as its volunteers have laid out over 15 miles worth of trails through the varied terrain of 1400 acres. The Nature Center also boasts nearly two miles of Lake Ontario beach to explore and hosts a series of programs throughout the summer and fall at its lakeside year around headquarters facility. It is a comparitively new tourist attraction, having opened jsut a couple of seasons ago, but the volunteers and staff have done a splendid job of trail building. This summer the Nature Center also built a launch site on Sterling Creek for canoes and car toppers. You can put in here and then float down the east branch to Lake Ontario.

The Fair Haven area boasts a half dozen private camp grounds as well as RV camping at the state park. Grants Vacation Park in Fair Haven absorbs some overflow from the near by park and Holiday Harbor on Blind Sodus Bay offers waterfront views and access. Another waterfront RV park option is Shon's Boat Basin (1800 524 9878) also offering waterfront cottages. This is also the home port of Silver Waters Sailing. We offer day trips on the lake that provide views of the shoreline cliffs east of Fair Haven aboard our 32 foot sloop. Call 315 594 1906 for Silverwaters Sailing.

---
Return to Log Online
go to Silver Waters Home Page