The Lake Ontario Log newsletter
Winter Storms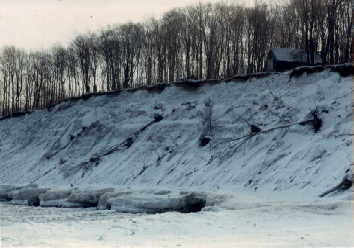 This time of year it makes lots of sense to stay inside and observe the weather through a window. If you are indoors and have time on your hands, check out NOAA 's event of the day, at http://www.osei.noaa.gov/. Great Lakes snow storms have been observed and studied for a half century. However, we still don't have a complete model for predicting these "mesoscale" weather events. Lake effect snow is not unique to the Great Lakes. In Utah, an observer recorded twenty eight cases of lake effect snow on the lee side of Great Salt Lake, most of these falling on Salt Lake City.

The experts tell us there are two basic types of lake effect snow storms here. The most common ones occur when the winds are at a large angle nearly perpendicular to the shore. A band or series of bands of snow, sometimes very heavy, then extends inland from the lake for many miles, especially if the winds are strong and the cloud band is readily visible in satellite images.

A less common situation occurs when the winds are parallel or nearly so to the shore. The wind is then often rather light, and the snow bands then stay in one spot and dump on it sometimes for hours. A possible example of this type of snow fall occurred in Oswego a few years back when 28 inches fell between 7:30 pm and 4 am the next morning.

We get the most intense snow falls off the lake when winds are aligned vertically from ground level up to perhaps ten thousand feet. If the winds aren't aligned, the squalls seem to be choked off and instead of snow we get a gloomy cover of low cloud.

It's been a while since the Log did a story on weather and Lake Ontario.This is the time of year for gales and stomrs, though so perhaps it's a good time to look back on an interesting March blizzard from five years ago. This was most definately not a localized lake storm. But it gave us plenty of snow to shovel. That year, 1993, a giant coastal storm with some local help from the lake, dumped over forty inches of white stuff on eastern Wayne County.

It was called "unprecedented", "historic" and "the storm of the century". Its effects were felt from Florida to Maine. A friend of mine who had gone south that winter with his boat recalled an eight foot storm surge on the Gulf Coast of Florida associated with the storm that left his boat firmly embedded in the mud at the dock. A Red Creek resident remembered his camper being bombarded by grapefruit in his Florida camp ground.

The storm became a nearly "perfect storm", if you will. It may have gotten an energy boost from El Nino, and it was deemed particularly significant and even historic for three reasons. Its huge size and severity, the possibility suggested by some models that it was influenced by an El Nino, and the long range forecasting that predicted it.

At its height, this storm closed nearly every East Coast airport, and because of the airline "hub" system now in place, airports thousands of miles away were also clogged with traffic and stranded people. At least one fist fight occurred at the Newark New Jersey airport when a group of stranded travelers jumped the ticket counter and started swinging.

The same storm swept up the East Coast and hit the maritimes with savage intensity. A freighter, the 530 foot Gold Bond Conveyor, loaded with gypsum sank off Nova Scotia, and seas to sixty feet were reported southeast of Cape Sable Island. Motorists from Virginia to Maine were stranded and sixteen deaths in New York State were reported. At least half of them were from snow shoveling exertions.

Closer to home

Thruway crews contended with twelve foot drifts driven by winds that reached sixty miles an hour. In Rochester the airport recorded 23 inches of snow and meteorologists there declared this the worst storm to occur in the city since January 1966. However, Syracuse, just a short distance to the east received over forty inches thanks to a boost from Lake Ontario. This was one of the highest totals for any city dumped on throughout the East Coast. My driveway received about the same snowfall between March 13 and 14.

How it happened

To produce a storm of such magnitude and intensity requires as a weather forecaster put it, a "perfect alignment of conditions". A powerful jet stream supplied the energy and an unseasonable mid March Arctic air mass provided the cold. warm air from the Gulf of Mexico provided the water vapor and adding to the storm's punch was an unexpected flare up of El Nino which apparently provided a little extra kick to the brew.

As a contemporary account put it, an upper air disturbance produced the "spark" that ignited the "explosive development of the storm". Interestingly, this particular event was also forecast well in advance of its arrival. Locally, the six o'clock weathermen were talking about it a week before it arrived, warning repeatedly this would be a whopper. One aviation forecast model actually predicted the storm ten days out.

By Thursday before it hit, two different computer models agreed on the track. It would lie just inland from the coast. A blizzard warning was issued for the lake's south shore on Friday afternoon. I clearly recall the feeling of strangely oppressive stillness before the storm as I walked about outside a few hours before it struck.

It began in the afternoon and by nightfall the wind was bellowing through the trees and driving clouds of powder across the land. The wind shrieked and roared around my ridge top house and drafts from the storm reached completely across the livingroom from north facing windows. Several times I felt the entire house tremble as a gust slammed against it. and twice I saw a flash of winter lightning made a sickly greenish color by the heavy snow.

The next morning a drift behind my garage reached nearly to the roof line and several small drifts of snow stretched halfway across the garage floor driven under the door in the early hours of the blow. After the wind had dropped, I sallied forth with my shovel to attack my driveway. It took all afternoon to dig out a driveway two cars long.

The storm knocked out power and stranded cars throughout the county. Over three hundred vehicles were reported abandoned or otherwise stuck during the storm. In Sodus Point some diehards threw a party to celebrate the blizzard at their home about three hundred yards from the lake. One recalled in the local paper that the wind was strong enough to throw freezing spray "a half inch thick" on the lake side of his home.Other lake watchers reported waves in excess of ten feet driven by that powerful north blast.

It took the county days to dig out, and about the only comfort I took in the situation was knowing April was only a couple weeks away.



Return to Log Online
Go to Silver Waters Home Page