Boats With A Mission
The  notion of doing something noble with a boat has always fascinated me. It clearly fascinates others too, for I've seen boats with missions on several waterfronts lately. And recently we acquired such a boat right here on Lake Ontario, the OMF Ontario, an 85 foot steel schooner. (More on her in a moment).
<![if !supportEmptyParas]> <![endif]>
It's no simple thing to save the world with boats. For one thing, a decent sized project that involves a decent number of people needs a decent sized boat. A ship is even better. Some of the vessels  with missions that I've encountered like the 150 foot brigantine Kaisei out in San Diego, do qualify as proper seagoing ships. And since the only thing I know that burns through money faster than a brigantine  is a business, I know the people running these programs must expend vast amounts of energy on begging and fund raising.
<![if !supportEmptyParas]> <![endif]>
A few years ago an enterprising acquaintance who shares my life long fascination with the Lake Ontario environment tried to launch a freshwater program much like the Oswego Maritime Foundation effort or the Hudson River sloop Clearwater campaign initiated by folk singer Pete Seeger. He tried to bring an 80 foot trawler up from the east coast that had been laid up after a fishery buy out program. Months of strenuous net working, lobbying, and begging ensued. He had meetings with city officials, creative minds, retired executives, scientists, and yachtsmen. He also spent several thousand dollars of his own money on the vessel's port fees and insurance. At last his wife cut off the funding and sheer exhaustion and despair overwhelmed the campaign. The trawler went to the scrap yard and project sank without a trace. All that remains is a domain name and a ghostly website for Great Waterways, still hosted by a  server humming away on a shelf in southern California. I feel a pang of sorrow  every time I look at it.
<![if !supportEmptyParas]> <![endif]>
So whenever I see a program that's actually got a boat out there, I'm filled with admiration for the people behind it. Their efforts speak of hope, something we are in deep need of these days. Hope and positive action to try to make the world better along with a chance to mess with boats, is there a better way to spend time than that?
<![if !supportEmptyParas]> <![endif]>
With my biology background I'm especially partial to the boat mission of raising environmental awareness. (I try  to do a little consciousness raising about Lake Ontario myself during  three hour boat rides  aboard our 32 foot sloop in  a seasonal day charter business.) So I've followed with interest  the OMF effort on Lake Ontario to get  a completely volunteer built boat with an environmental mission  afloat. She's a steel schooner the flag ship for the Oswego Maritime Foundation's Education Through Involvement program. This effort is designed to teach about Lake Ontario's maritime history and its environment. It hasn't been easy or fast building an 85 foot  steel schooner on weekends. But after laying her keel back in 1988, the OMF Ontario is nearly finished. She was  rigged and readied to sail this summer and on August 27 was officially "commissioned" and reached out across Oswego Harbor and back for her first sail.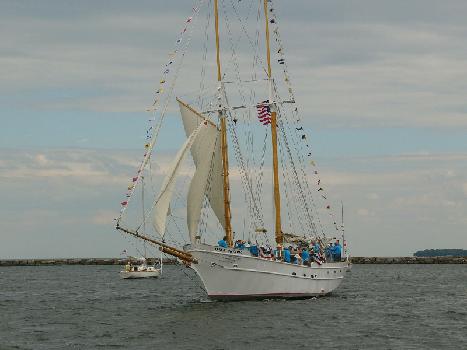 <![if !supportEmptyParas]> <![endif]>
The organizer of the effort, Henry Spang, says the program centered around her should get underway within a year or so. Although commissioned and sailing, much below decks work remains to be done. For more on the program visithttp://www.oswegomaritime.org/
Here's another photo as seen from the deck of the "press ship" Sara B. Looks to me like we'd better fire up that  old Thorneycroft and get outta the way!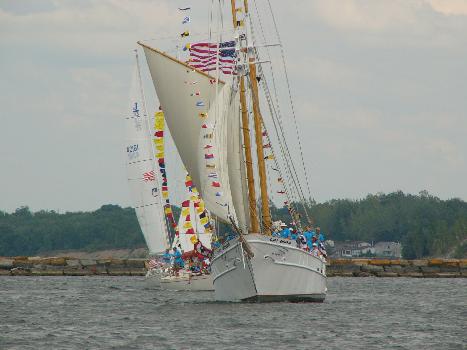 <![if !supportEmptyParas]> <![endif]>
<![if !supportEmptyParas]> <![endif]>
Most of these programs whether historic, environmental, or character building,  have in common a message directed primarily at the young.  For those of us who  in our own childhood were  touched in someway by a boat, these programs seem especially meaningful. We celebrate the victories and successes out there and  mourn for those people whose projects founder.
<![if !supportEmptyParas]> <![endif]>
A few years ago I talked briefly with a young woman in Oswego who had purchased a large steel gaff rigged schooner. Her dream was to help  troubled people, young and old alike, to heal themselves through the beauty of sailing. Alas, last time I checked, the program's website it was as lifeless as that of  Great Waterways. Link broken. Page not found. Another failed attempt. This past winter I ran across another ship whose mission also appeared to be becalmed for the moment. She was the Kaisei, a sleek steel brigantine, tall, strong and ready to go but tied up in San Diego. She'd been waiting for months to resume her mission  that of promoting contact between different cultures and peoples through a youth exchange program afloat and peace between people and the besieged ocean environment. Her global peace mission initiated by another woman,  had run aground presumably on the same logistical and financial shoals that tore the bottom out of the Great Waterways effort, the healing schooner and many another unsung project. Hopefully the beautiful brigantine has by now renewed her global voyage  with a young crew. I saw something recently about her appearance in San Pedro ( near LA) so I assume she's sailing again.
<![if !supportEmptyParas]> <![endif]>
I salute all of these people trying to save the world with boats. Open source programmers, entrepreneurs, school teachers, retired executives, folk singers and boat builders, you who have tried and sometimes even succeeded in making the world a little bit brighter and better while the rest of us just talk or dream of doing it. And even if these people fail in their quest to make things better with boats, they have at least done something. They have tried. Failures can raise awareness too. But success sure is a whole lot more fun.
<![if !supportEmptyParas]> <![endif]>
Websites 
www.brigantine.ca The St. Lawrence II operating on Lake Ontario and Lake Erie
www.clearwater.org the first freshwater environmental educator ship that I know of
www.silverwaters.com a  modest effort by the author to raise awareness of Great Lakes issues
<![if !supportEmptyParas]> <![endif]>
<![if !supportEmptyParas]> <![endif]>