Wooden boat festival for Silver Waters web log on line
<![if !supportEmptyParas]> <![endif]>
It's been fifty years since the first  the first large fiberglass auxiliary sailboat was launched and even longer since plastic  outboard powered runabouts went on sale. Yet a lot of wooden boats are still out there, still sailing and cruising and chugging around. And since 1968, when I started boating, there has even been a modest revival of interest in old woodies as they are now perceived as being "antique" (in contrast to just being "old" and cheap forty years ago!). The first Clayton Antique Boat Show I attended in 1974 was a  modest affair with perhaps thirty or so runabouts, canoes, rowboats and a couple of sailing cruisers. This past year the Clayton Show attracted  over two hundred boats. Among them were reproductions of classic mahogany runabouts valued at a half million dollars and sporting 22 coats of varnish.
<![if !supportEmptyParas]> <![endif]>
There are  now a number of other wooden boat shows and festivals around the state. Buffalo, Geneva, Skaneatelas and closer to home Sodus Bay  all recently  hosted shows featuring classic and wooden boats. This August, I attended The Oak Orchard Wooden Boat Festival, a fairly young event that  started up six years ago. This past August boats ranging from 8 to 51 feet in length attended. Some were new and recently built. Some were a hundred years old. There were canoes, rowboats, schooners, and power cruisers. There was also lots of music, lots of good food and much laughter and good times. The boat parade on Saturday afternoon went off without a hitch- no one collided or sank and the bagpiper playing aboard   Sara B was a  hit. there are photos at her website here.
<![if !supportEmptyParas]> <![endif]>
The Oak Orchard Wooden Boat Festival  got started when Ray Leonard, owner of a veritable fleet of woodies, decided along with some friends and family to get all the boats together. The first festival was modest but great fun. Leonard and associates never looked back, and every year since has been bigger and better with more music, more shows and more boats.
<![if !supportEmptyParas]> <![endif]>
This year the festival organizers made a special effort to broaden the gathering's variety by attracting more sailboats. They succeeded in snagging not one but two old gaff rigged schooners, one a seventy one year old yacht from Wilson NY, the other our own little gaffer from Fair Haven.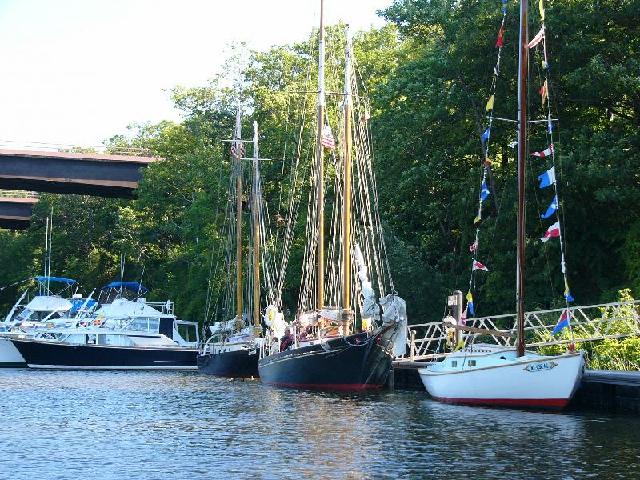 Boreas, the little white sloop was amateur built in the 1950s and has "lived on Oak Orchard Creek her entire life Schooner Liberty  and old Sara b astern
<![if !supportEmptyParas]> <![endif]>
In sharp contrast to these two elderly wooden "ladies", another sailboat was the Nina S. Benjamin, an utterly enchanting little 18 foot yawl, built of mahogany by her owner. I've rarely seen a more careful and skillful job of amateur construction. With her gleaming bright work and graceful curves, she was a work of art and a tribute to the skill and patience of her creator.
<![if !supportEmptyParas]> <![endif]>
Dozens of old runabouts and launches were pulled out of barns and garages, hosed off and cleaned up and brought to the festival.  Dick Ameigh and his wife Bev brought their delightful little 1957 fourteen foot Baracuda, the "Tinkerbelle" to the festival. Like Nina S this too, was an amateur built boat. "Tinkerbelle"  was a kit boat, sold in pre cut pieces for do-it-yourselfers to assemble at a time when tens of thousands of back yard built boats were being created on weekends and evenings by self taught shipwrights and tinkerers. The Ameigh's trailered "Tinkerbelle" to the show on a 1957 boat trailer behind a fully restored 1957 Convertible. The rig was parked and "manned" by several department store manikins dressed in the latest  fashion of their day, while the car radio played period pop tunes.
<![if !supportEmptyParas]> <![endif]>
The local chapter of the Wooden Canoe Heritage Association put in an appearance with several sleek restored canoes, and the Antique Outboard Club also had a restoration project underway. A craftsman worked on a battered shell of a canoe under a tent so festival goers could watch ribs being steam bent and thin cedar planking being fitted.
<![if !supportEmptyParas]> <![endif]>
Festival organizer Lynne Menz explains that "This festival has become a platform for local residents to promote the history & culture of Point Breeze & the Oak Orchard River." A part of that history is the old Oak Orchard Lighthouse. The Oak Orchard Lighthouse Museum committee who are raising funds to build a replica of the Oak Orchard Lighthouse, washed away in a storm in 1916, were on hand with a booth. They are hoping break in Spring 2007 for construction of a replica. The Orleans County Genealogical Society was also there and unveiled their new book "Carlton & Point Breeze" . This is a volume of  photographs and lengthy captions depicting the maritime and rural culture & activities surrounding the Oak Orchard River of days gone by. According to Lynne "These 2 passionate organizations exemplify the efforts to attract historical significance to this unique region, similar to the wooden boat enthusiasts."
<![if !supportEmptyParas]> <![endif]>
<![if !supportEmptyParas]> <![endif]>
Not all the boats displayed were old. A miniature tug boat and an eight foot dinghy were among the recently built exhibits. And nearly all the restored boats had been rescued from the scrap heap by their owners.  Non- boaters found diversions at the festival with the juggling pirate who tossed real knives in the air and with fishing demos and musical offerings ranging from gospel to blue grass and blues.
<![if !supportEmptyParas]> <![endif]>
The homegrown informal aspect of this gathering is in sharp contrast to some of the more polished and upscale boat shows I've attended. There were no professional judges here and no competition or subjective standards for exhibitors to deal with. The only prizes awarded were for categories such as People's Choice or Furthest Traveled and many of the boats attending were not show pieces but rather were in daily use.  Old friends and acquaintances who hadn't seen each other in years met here and new friends and connections were made at the festival  as people shared their common interests. Owners swapped restoration tips and rot stories. Information on where to find parts for a 1930 Graymarine or the best caulking method for leaky decks was exchanged along with website and email addresses and boat owners vowed to keep in touch after the festival.
<![if !supportEmptyParas]> <![endif]>
When it was all over and the fleet of old timers had dispersed by land and sea, a number of crews vowed to return next year to what is shaping up to be a great little gathering and festival. I think Sara B had a pretty good time. I know we did.  Next year the festival is August  11 and 12th   and visit the festival on the web at http://www.woodenboatfest.com  For more area  info and history, visit www.oakorchardlighthouse.com and http://orleanscountygenealogicalsociety.org/.
<![if !supportEmptyParas]> <![endif]>
<![if !supportEmptyParas]> <![endif]>
<![if !supportEmptyParas]> <![endif]>