Summer Sailing and such
The Log On Line has been rather neglected in part because its author has been busy sailing either Titania on charters or for instruction or for pleasure aboard Sara B. Sara B's website reflects her activities. Titania hasn't gotten over ten miles from home this year, but stay tuned. Her day yet may come.
During our day sails and pleasurable cruises there have been a few hints that changes continue to occur in the waters beneath us. I noted way too many large dead fish earlier in the summer, some of which are species not usually seen dead in the open water- suckers, drum, carp a large pike etc. I am uneasily wondering about the impacts of VHS. I am not wondering about botulism. I know it is taking a toll from the dead birds (mainly gulls) observed this summer. But last week I saw five juvenile eagles at a lake shore location so some of the fish eaters are surviving.
As far as summer yachting goes, Oswego has seen some interesting historical vessels lately. In late August the canal schooner Lois McClure called as part of her grand canal tour of 2007. She is an odd craft, a replica of an early hybrid vehicle that combined a canal boat's hull with a gaff schooner rig. As far as I know North American sailing canal boats were pretty much unique to Lake Champlain. After the Erie and other linking waterways of New York State were completed, they were built in some numbers. Sized to fit the canal's locks, they were towed by mules and horses like any other canal boat, but once they reached Lake Champlain the masts were raised and sails bent on to call at various lake ports under their own power. Shippers using the hybrid canal schooners were able to avoid shifting cargoes between lake boats and canal boats. This streamlined freight transport and reduced the damage to goods from extra handling so canal schooners along with some sloop rigged canal boats enjoyed some popularity on the lake from about 182? through the early 1900's.
The Lois McClure, part of the Lake Champlain Maritime Museum, is a replica of the 1866 "class" of canal schooner, boats built after the second enlargement of the locks on the Erie. Because they had to fit through the locks, canal schooners were a bit shoaler and also narrower than a comparable sized Lake Ontario two master. Their rig was also simpler and smaller than that of a typical open water carrier, so to facilitate lowering and raising the masts as the boat transitioned between canal and lake.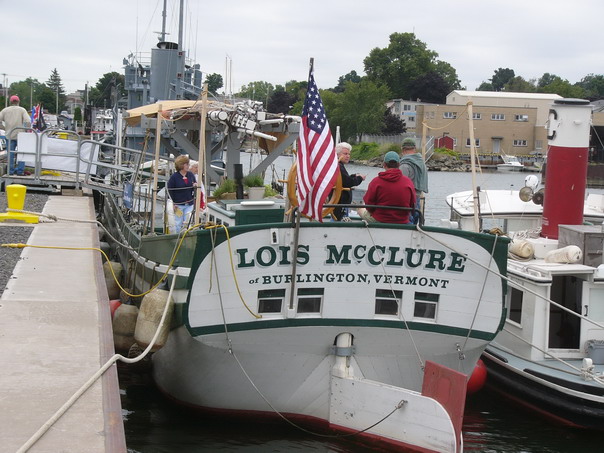 The Lois McClure was built by the museum at Burlington Vermont as a historically accurate reconstruction. A core group of professional shipwrights began construction in 2002 and completed the boat by 2004 with the help of dozens of volunteer workers. She was built of native materials including white oak for planking and frames, white pine decking, and spruce masts.
Noted marine author and sailor Roger Taylor who served as her skipper on this grand tour remarked that the canal boats of old seldom lasted more then ten to fifteen years and were built accordingly. The quality of the joinery work and fasteners used in the reconstruction are probably considerably superior to that of many typical nineteenth century working canal schooners. When asked how the boxy boat with her stumpy rig and large centerboard sailed he said she's very handy and responsive under sail.
In keeping with historic accuracy the Lois McClure has no engine. Instead she depends on her faithful companion the C.L. Churchill, a wooden hulled tug, herself a third sized replica of a nineteenth century working tug that was built in the 1960s for a private owner.
About a week later our own Sara B the little Tancook schooner took part in a living history re-enactment that also involved an interesting historical replica boat, the Royaliste. This ketch is built in the mode of a 1750s Royal Navy ketch used for ferrying dispatches or other fleet duties. Her rigging and general above water appearance are close copies of the 18 th century ships then in service. She is 71 feet overall, crosses two yards on her mainmast and brails both her main and mizzen sails up when not in use.
Sara B was asked to substitute for the OMF Ontario the steel schooner that is nearing completion as detailed elsewhere on this log. The Ontario was mired in the mud at her slip due to declining lake levels and so Sara B filled in as a very small substitute ship (?ship-lette?) participating in a reenactment of the last Jacobite uprising when Bonnie Prince Charlie landed in Scotland to rally the high land clans to march upon England. (Visit sarab.brownroad.com for more on the re-enactment).
Here's Sara B sailing with the Royalist off Oswego, Edgar Denton's double ended skiff lashed to the shrouds photo provided by "Mad Peg" of the Royalist
The Royalist happened to be in port preparing to unstep her spars to head south. We talked briefly with one of the sturdy young men who made up her crew as well as with a volunteer helper, "Mad Peg" who was aboard for a few days. Back home I then visited the website to learn what I could of this intriguing ship, built like our own in the Canadian maritimes. She is somewhat younger than Sara B and much more traveled. For some years her owner has "campaigned" her as a combination sail training vessel and mock pirate and privateer seeking out movie roles or doing special events like the Pirate Days at Alex Bay. As a private freelance "historic ship", Royaliste hustles funding wherever she can, in a lifestyle perhaps not unlike that of a 19th century family owned two master on Lake Ontario seeking cargoes and carrying what ever and where ever she could. On this weekend the Royaliste had only two regular crew members and her captain aboard, and I was impressed with the proficiency that they displayed in handling her as she took part in the re enactment, making passes by anchored Sara B and firing upon Fort Ontario with her black powder fueled guns. The crew was pretty busy between sailing their 70 footer and manning the guns. I suppose the "have historic ship will travel" mode involves a fair amount of ship handling and getting up sail on short notice.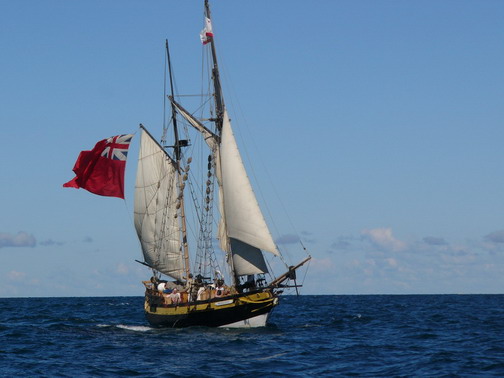 Here the ketch plays the part of a royal navy vessel assaulting Fort Ontario
It surely also involves lots of work. The poor Royaliste had a bad grounding according to her website last February while in the Carolinas, and a lot of her gear and accommodations were damaged by water, not to mention some wear and tear on her hull. We stopped by when the crew was cooking lunch in an electric skillet on deck, suggesting her galley may still be recovering. At any rate, we wish her well in her efforts to stay active and functional as a twenty first century working ship carrying on a long tradition of mixing sailing, seamanship and entrepreneurial activity. It wasn't easy 150 years ago and it clearly still takes lots of guts and energy today. Here's a link to the privateers website that is set up for the Royaliste where you'll find lots of photos and links to an interesting ship's log and other information on the shiphttp://www.privateerinc.org/