The sailing yacht like the butterfly is a creature of summer. She dances with wind and water and usually ventures forth on sunlit days over the glittering waves. The sailing yacht exists to provide pleasure. She is a means of escape and gives respite from the routines and burdens of daily life and work If all goes well during her excursion upon the lake, and if no one gets seasick, the yacht shows her passengers a world of beauty and wonder, a place shifting delicate colors, of towering summer cloud, or perhaps of cool soft moonlight or tranquil reflections.
Summer sailing takes time, time spent with friends or family members, a time for people to enjoy each otherís company in a peaceful place. On a day of light wind, the boat nods over the waves with a quiet murmur of her bow wave and the lake rocks her in a gentle embrace. Sometimes a brisk summer wind rolls up the waves into green tinged lumps and ridges capped with white. Then the sailboat cuts through the wave tops sending spray fifty feet to leeward where rainbow fragments gleam briefly. Some of the spray may come flying aft to souse the crew, and on a sunny warm day their usual reaction is a hearty laugh.
Immersed in the moment, none of the shipís company has a thought for bitter winter winds, dark gray water, or building ice along the shore. For an hour or two, itís time to frolic and dance- time to feel the eager boat lean to the wind and accelerate in response to a puff. Septemberís shorter days, longer shadows, and cooler winds will come soon enough. Thereís still time to take her for one more dance across the broad blue floor of the lake surface.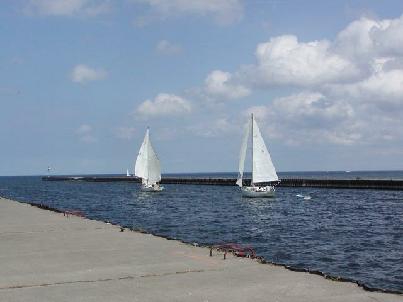 photo by Ron Howe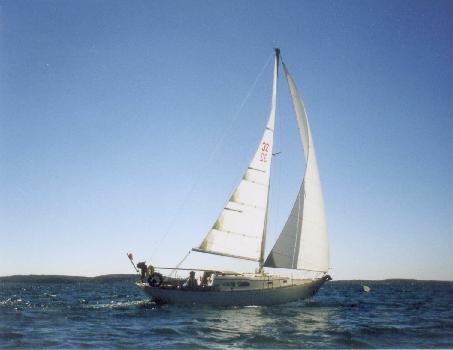 †photo by C Gateley
<![if !supportEmptyParas]> <![endif]>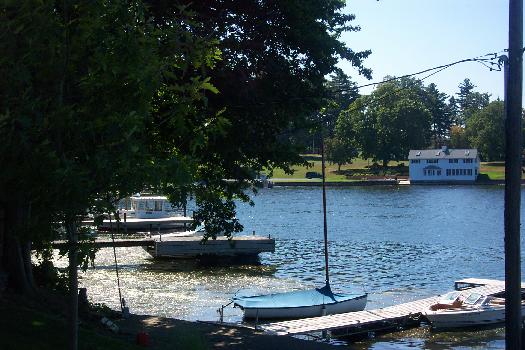 †††††††††††††††††††††††††††††††††††††††††††††††††††††††††††††††††††††††††††††††
††††